Photography courses based in Whitehaven, Cumbria
---
My courses have been running in West Cumbria since 2008 and have helped hundreds of people to get more out of their photography and enjoy it along the way!
Photography courses running in 2021 – at a glance
– Industrial Heritage Photography – Starts 7th August 2021
– Digital Photography for Beginners – Starts 22nd September 2021
– Digital Photography for the Serious Amateur – Starts 3rd November 2021
To book a place or for more information (please book using the online link).
– TO BOOK ONLINE click here
– To enquire you can click to email or Telephone; 01946-506416
---
Industrial Heritage Photography is an exciting opportunity to combine some urban exploration with local history to bring you three exciting ex-mining locations; Florence, Threlkeld and Scale Force.
– 3 sessions over 3 weeks.
– Full price; £33.  Concessions available.
– Limited to 10 places.
Digital Photography for Beginners is aimed towards people who own a digital camera but just want to get that something extra from it. This is a fantastic opportunity to learn more about your camera and how to take the photos that you want and not to leave everything to the camera to make the choices for you! You will learn how to get some great effects from easy-to-learn techniques … and no, you don't need the latest SLR with very expensive lenses.  People with bridge cameras have successfully completed the course.
– A total of 9 sessions over 5 weeks (5 classroom-based on a weekday evening and 4 field trips on weekends)
– Full price; £121.00.  Concessions available.
Digital Photography for the Serious Amateur is aimed towards those who may know a little about their D-SLR camera already and want to learn some more advanced techniques; we go deeper into some more advanced techniques including HDR, off-camera flash and multiplicity with more use of software such as the use of layers in Photoshop and image compositing.
– A total of 11 sessions over 6 weeks (6 classroom-based on a weekday evening and 5 field trips at weekends).
– Full price; £137.50.  Concessions available.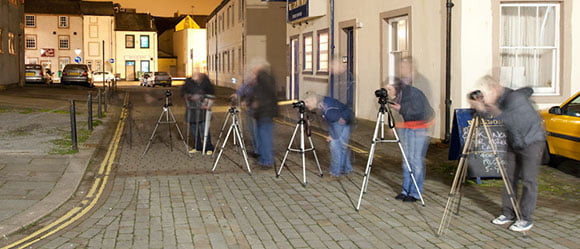 ---
Who runs the courses?
The courses are run by Dave Wilson, an established photographer, on behalf of the Community Learning and Skills Centre.  The courses are regulated and inspected by Ofstead and run in a safe environment meeting effective safeguarding standards.

What happens in the courses?
Firstly and very importantly, everyone gets their fair share of help.  So don't worry if you feel you need some extra time, we always have a mixed bag of abilities on the course which is one thing that makes it interesting.
Most of the courses have classroom sessions and field trips (where we go out and practice what we've been talking about).  All of the courses include tips on how to improve your technique, learn some of the theory involved in the photos you are taking, what to look out for, and loads of other great stuff which will help you improve your skills.

What if I'm not good enough?
There's no such thing.  Everyone starts as a beginner so don't worry because you will get the help and support to see you taking better pictures than ever!  In fact every person who has completed the courses have gone on to exceed their expectations and I have seen some truly amazing pictures on social media from our learners!
What days of the week do the courses run?
Classroom sessions for the Beginners and Serious Amateur photography courses are on week-day evening and the field trips are usually at weekends, the timing of which is mutually agreed with everyone in the class in order to suit the majority.
The Landscape of the Lakes course, Industrial Heritage course and Studio Taster courses usually run on a Weekend to suit the most number of people.
Where are the courses run?
– The Beginners and Serious Amateur photography courses classroom sessions are at the new Whitehaven Campus (St. Benedicts School) and the field trips are mostly around the Whitehaven Marina area with some field trips reaching to the likes of Eskdale and Calder Bridge.
– The Industrial Heritage Photography courses have visited historic areas such as Force Crag Mine, Threlkeld Quarry and Museum, Florence Mine and we will be looking for the same or other areas to visit.
– The Landscape of the Lakes course will visit locations such as Ashness Bridge, Derwent Water, Ennerdale, Latrigg.
– The Studio taster course will be run at Whitehaven Campus.
Wherever we venture outdoors we use locations which are fairly easy to reach and we don't do any long walks or climbing.
What equipment do I need?
For the Beginners and Serious Amateur photography courses you need a camera (DSLR or Mirrorless are ideal although people have completed the courses successfully with Bridge or Compact cameras but bear in mind you will be limited with what you can achieve. You will also require a tripod for some of the field trips, although the tutor has spare tripods to loan out in limited supply. An ND (Neutral Density) filter is recommended, these can be quite cheap – recommendations to fit your particular lens can be given out in the classroom sessions.
For the Studio taster course you may be able to use your own camera or alternatively you can use the tutors equipment.
For other courses like the Landscape of the Lakes you can bring what you like but you need to be able to carry it.
What if I can't make a session?
That's no problem, everyone has other things on, simply let the tutor know. However we would like you to get value for money so if you know you would miss a chunk of the course because of holidays etc. then we recommend considering an alternative date.
How often do the courses run?
The courses repeat at various points in the year although for the courses where a classroom is used we avoid school holidays.
How do I book on to the course?
You can book any of our courses online.
What is the cost of the courses?
Current costs, along with a lot more detail, can be found on the Community Skills and Learning website; https://www.cumbria.gov.uk/learningandskills/communitylearning/centres/copeland/copeland.asp
Can I talk to someone?
If you have any specific questions you can email copelandclas@cumbria.gov.uk or call 01946-506416.
---
"Instructor had a friendly, easy-going manner whilst demonstrating deep knowledge of the subject"
D.Harbourne
"This course … will inspire me to go out and take my time with a hobby I always wanted to do – thanks Dave!"
E.Pullin
"Informative course in a friendly, relaxed atmosphere"
B.Laurie
"Dave is a great tutor with endless patience who has made learning easy. A friendly, interesting course that I have enjoyed and would recommend"
R.Knowles
"I'm glad I came, learnt so much more that I thought I would".
C.Horton
"Fantastic course, great technical knowledge & teaching, a definite must, the man knows his stuff!"
A.Walkingshaw
"Would recommend the course for anyone wanting to improve their photography"
J.Paterson
"I did both of the courses, all in all a very enjoyable 12 weeks!"
S.Waldron
"I enjoyed it from start to finish. The course was delivered in a very friendly relaxed and easy manner. I will recommend this course to anyone who wants to progress their photography skills."
M.Regan
"The course was very informative and adaptable to topics we were interested in. Also the field trips were fun and gave us the opportunity to put the learned skills to practice."
R.Powe
"I learned a lot in an easy-going atmosphere and met a group of really nice people with a common interest."
P.Mauger
"Now using my digital SLR more to its potential compared to before the course."
I.Rhodes
"I wanted to feel more confident using my camera and now I do!"
M.Lancaster
"I have a much better knowledge of what the camera features do and now have the confidence to try them out."
P.McKenzie
"Excellent course and extremely informative. Field trips provided practical examples of course content."
G.Rhodes
"Very good course, would recommend!"
P.McCurrie
"I'm surprised at how well my knowledge has improved. I feel that I have the confidence to move away from the auto mode. A worthwhile course that has fired up my enthusiasm to continue to learn."
J.Topping
"Really enjoyed the course, great tutor whose informal approach and genuine enthusiasm for photography is infectious! Great stuff Dave, thankyou! You have taught me something I wish I had learned years ago."
J.Pennington
"Learned a lot in an easy & understandable way that Dave taught."
E.Robinson
"I have a much better understanding of how the camera works and how to get better pictures."
S.Farquhar
"Enjoyed the course and now feel very confident."
J.Bowler
"I have a much better understanding of aperture, shutter speed and ISO and how they all work together. Excellent course, I am much more confident using my camera."
J.Todhunter
"Dave is a very knowledgeable and enthusiastic 'snapper'. Seems to enjoy passing on tips and techniques. He always ensures the whole class understands the concepts and is happy to answer even the simplest question. Thoroughly enjoyed the course, thanks Dave"
S.Kenwright
"More confident to use other features on camera not just 'auto' all the time. Better able to handle camera & use more facilities on it … have learnt more in general about photography"
L.Townson
"In the first 2 weeks I doubted that I would be able to understand, remember and be able to put into practice what I was learning but I have!"
J.McQuire
"Dave is a very good tutor, has the time and patience to show you how to learn and explains everything very well
V.Walker
"Dave has been a good tutor, he has inspired me to try things out and helped when I've gone wrong. Thoroughly enjoyed the field trips"
D.Whelan